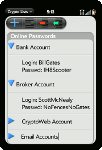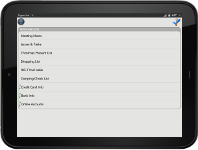 Save passwords, checklists, notes, and more with Crypto Lists for the Palm Pre and HP Touchpad. Keep personal data encrypted on your phone and look it up whenever and wherever you need it.

Notes, passwords, outlines, nested lists and checklists
Reusable templates
Encrypt anything in Crypto Lists
Optionally edit un-encrypted data online (15 day free trial)
Import text and CSV files online
Automatic cloud backup of un-encrypted data with online subscription
Collapsible sublists
Optionally hide checked off items
Drag and drop reordering
Swipe to delete
Native cut and paste
Searchable list titles
Edit multiple lists at once
Close encrypted items on timeout
Can be backed up via USB
Supports large lists with thousands of items
Manage multiple devices from one account; link or copy data across devices
To find out more about Crypto Lists see our Crypto Lists screen shots. To find out more about CryptoWeb, the on line editing companion to Crypto Lists, see the CryptoWeb screen shots. Also, see our YouTube demonstration video or our Frequently Asked Questions (FAQ) list above. Click here to see Crypto Lists in the Palm application catalog.